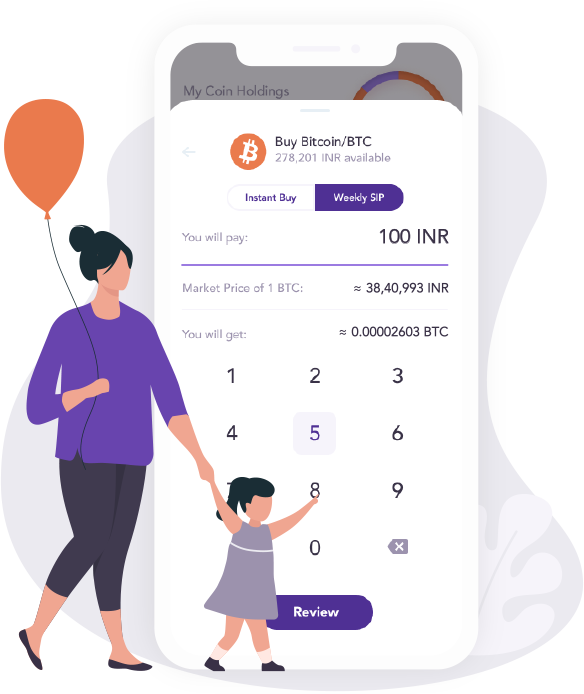 Introducing SIP
The least stressful way to invest. Start your Bitcoin SIP with just Rs.100.
Small weekly investments can add up to a lot. ZEBB will do it for you, automatically! All you need is 2 minutes, Rs.100 and ZEBB.
Need a good reason to SIP? Take 3.
Bitcoin and Ethereum are revolutionary technologies with tremendous growth potential.
SIPs help you invest at the best possible average buy price.
It's 100% legal to buy Bitcoin in India.

World's simplest Bitcoin app
Automatic SIP investing, instant buy and sell, and 0% buying fees! All these to make investing quick, easy and FUN!

Start weekly SIP- set up one or many
Automate your investment journey to get the best out of the market highs and lows. Sit back and relax while we work for you! Low risk, high returns.

Easy account setup and deposit
Super easy, hassle-free setup, and convenient deposit methods. No stress guaranteed!

Buy Bitcoin (& Ether) in just 3 taps
TAP, TAP, TAP and done! That's how quick it is to invest in the world's most loved coins.

Support inside the app - just tap
You won't have to leave the app to get help or solve your query. We are on duty to give you the best in-app support.

Security powered by ZebPay
Since 2014, ZebPay has handled billions worth of crypto assets. We use the highest measures of security, so you can trade, stress-free.
Why only bitcoin & ethereum?
ZEBB is the place to fall in love with crypto. The best coins to start with are Bitcoin and Ethereum - the biggest, oldest, and most valued. If you just want to start investing in this new asset class, ZEBB lets you buy your first Bitcoin in a few taps.

You don't have to be a pro trader or crypto expert. You just want to buy Bitcoin the easiest way possible!

We believe in Bitcoin and Ethereum and ZEBB is the way to make it accessible to everyone in a simple, secure way.

Later, If you want to trade a wide range of crypto assets, use the ZebPay trusted by 4 million users since 2014.